Link Building To Up Your SEO Game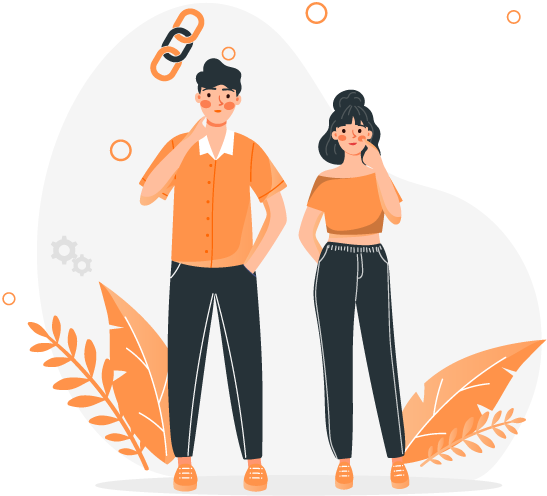 What Exactly Is Link Building?
Link building, as you may know from the first sentence of this page, is a branch of Search Engine Optimization (SEO).
When a website creates links from other websites on the internet, that link back to that website is what Link Building is. It is easily the most important part of SEO. Without it, businesses cannot become visible among the huge number of websites competing with each other.
A question that may arise in your mind is, "Is it difficult to do link building?"
It isn't difficult. But it is best handled by experts like Tabscap. We say that because it has to be done very carefully. If you're careless, you could mess up your efforts & end up achieving nothing valuable.
Ask yourself, "Do you want to waste money and resources?"
Surely not. So, stop doing link building yourself and let Tabscap take care of it.
Link building is a slow process that brings results slowly, but they stay for a long time. Rushing the process is not useful for you and your website.
Why Link Building Matters?
When high-authority websites with high Domain Authority (DA) link to a website, search engines like Google identify that the website linked to is a trusted one. And because of this trust, Google starts showing that website when users put relevant keywords in the search box.
The practice of creating links is called Backlinking. It is a common SEO term that many new businesses don't pay any attention to. But we really wish they do because working only on them can boost a website's rank higher.
You can have the best of everything on your website, but if you're not putting in the effort to make it visible, then all your hard work will go down the drain.
When a business chooses Tabscap, they get the guarantee of getting traffic from various sources on the internet. And the traffic that lands on a website doesn't go to waste because more traffic gets translated to more sales and revenue.
To increase your website's value and let search engines know that you have quality content, you just can't ignore Link Building.
Link Building Strategy
Every brand's link building strategy has to be different and tailored only for them. We create an effective strategy keeping your goals in mind. When we do it, we achieve the best results. The best results ensure that you and we are happy with the service.

Competitor Analysis
We analyze your competitors by looking at the websites they have created backlinks at. Any useful websites we find in the process are used to create backlinks for you. And no, that's not copying. It is an intelligent way of getting better results.
No Black Hat Link Building
Creating backlinks on irrelevant websites is not only wrong, but it is also punishable by various search engines like Google, Bing, and others. But you don't have to worry about getting in trouble when you choose Tabscap as we stay away from them and only create genuine backlinks.
Guest Posts
You cannot build backlinks directly on other websites. Content is needed to link to your website. And even in content, you have to place links intelligently and not make them look unnecessary. Tabscap has a content team that does it in the most efficient way for you.
Take your business to the next level with
our White label SEO?
Let's Talk
Why Tabscap Is The Best Choice For Link Building Services?
Tabscap knows how high Domain Authority (DA) can boost a website's visibility. That is why we do everything to increase it for your website constantly. Anyone who knows about DA will also know that link building has a direct impact on it.
There are many technical details that a layman will have a difficult time understanding. Because of this, we have made it our aim to take care of the technical aspect of businesses by only showing them the positive results.
While placing links in an article, we ensure that they offer value to the readers because offering value is the only way to achieve success with link building.
If we sound like an agency you want to work with, let's talk the details.
Let's Get Started
What Can You Expect From Us?
As a competitive Digital Marketing agency, we offer you benefits that separate us from most agencies. Here are some reasons to encourage you to choose Tabscap.
We Make A List Of Websites To Approach
Approaching any website to place links may look easy. But we don't do that. We take the difficult route by identifying websites relevant to you.
We Write Valuable Articles
Writing valuable articles is the best way to achieve success with link building. We don't disappoint another website's users by writing poor content.
We Keep Track Of Websites Approached
When we approach websites and get either a yes or a no from them, we make sure to keep track of it so that we don't approach the same websites again.
Fix Broken Links
Broken links can do more harm to your website than good. So, as soon as we know there's a broken link, we fix it ASAP so that things keep working smoothly.
Increased ROI
Return on Investment (ROI) will be high when you get better results than expected. It happens when a team like Tabscap goes all-in on link building.
Clear Communication
Communication is the key for businesses to succeed online. We make that happen by staying in touch with you throughout the project and telling you the progress.
Catchy Email Title & Content
Authority websites get thousands of emails for backlinks. Obviously, they can't check all of them. They only check the ones with the most attractive title & the content. We create both of them effectively when you choose our link building service.
Personalized Approach Emails
There is no guarantee that the website you approach will accept your proposal. Because of that, you have to approach multiple websites. Usually, people copy & paste the same email to everyone. But we don't do that. We write each email separately and personalize it according to the website we're approaching.

We Stay Updated
Google, Bing & other search engines roll out new updates regularly. Every website has to abide by the rules to show at the top of search results. Those that don't end up suffering. Tabscap makes sure to keep itself updated with the latest news related to link building. It helps us implement all the new things search engines want us to.
We Earn Links
Initially, every website has to build links. We do it too. When you opt for our link building service, you start seeing a difference when websites start approaching your website (handled by us) to place their links. Some websites even ask to exchange links. This can only happen when one has worked well on link building.
Why Choose Team Tabscap?
Professional Link Builders
The link building team at Tabscap consists of experts who've been working in the industry for many years and perfected their skills over time.
Timely Delivery
We are fast. No, that's not an overstatement because we have created a habit of delivering the work before the due date. Our clients love us for that.
Regular Success Report
The success we achieve with link building is conveyed to you regularly. By choosing us, we guarantee that we won't ever keep you in the dark.
24x7 Support
We value our clients and their time. We don't just say, but we do. We have a dedicated support team that is available 24x7 to assist and sort your concerns.
Frequently Asked Questions
SEO stands for Search Engine Optimization and is a discipline that encompasses all the techniques and actions necessary to improve the quality of a website and make it appear in the highest positions of search engines.
All the prices and plans of the SEO services offered by Tabscap are completely tailored for each client. We value both the needs and aspirations of the web project and the dedicated hours of our technical team. Ask us for a custom SEO quote!
No. Although Google is the most used search engine in the world, we also make sure that your project indexes and appears in the first positions of other search engines, whether it is Bing, Yahoo, Yandex or Duckduckgo. Wherever you want to be, we will take you.
The time to appear in the top positions of Google will depend on the situation of each specific project. However, for an SEO strategy to start to show and reap good results, a minimum period of 6 months must pass in most cases.
We will position your website for all those keywords that can attract more quality traffic and potential customers to your online business. At the beginning of all our SEO strategies, we carry out a keyword study to find and select the ideal keywords for your project.
Unleash your brand's true potential with
Team Tabscap.
Let's Talk