So you've finally decided to dive into SEO for growing your website's traffic. But terms like backlinks, keywords and rank tracking bounce over your head. A genuine question you ask yourself is, "How can I know and track all these metrics?"
It is easy if you have one of the best tools to help you know and track backlinks, keywords, ranking and more. The tool is Ahrefs.
Although we call Ahrefs a tool, it is a suite that consists of several tools. Ahrefs caters to Digital marketers who want to keep track of theirs and their competitors' websites.
It is one of the best and most sought after tools for monitoring SEO. And most of you may know why monitoring SEO is important. It is vital because it gives a clear picture of the current SEO practices and tells you the problem areas to improve them
Benefits of Using Ahrefs Suite
We touched on some benefits of Ahrefs in the above section. In this section, we'll talk about them in detail so that you'll have complete information about the aspects vital to your website.
Identify Keywords

With Ahrefs, you can search keywords for Google, YouTube, Bing, Yahoo and other websites. You can also check which keywords rank higher. Based on that, you can decide to use specific keywords because keywords searched more bring more traffic to websites that use them.
You can also find low competition keywords because it's fairly easy to rank for them. If you're targeting a local audience, it is vital to write the name of the place and the service you're providing. Doing that will make your keyword a Low competition keyword.
Check Website's Content
The content you write on your website is directly linked with the keywords you want your website to rank for. Ahrefs allows you to check the content of your website and identify which blogs were shared the most.
Doing that will let you know the aspects that separate your well-performing content from not so well-performing content. Further, you'll be able to take key points and make them a part of your blogs in the future to drive more traffic and shares.
Check Backlinks of Competitors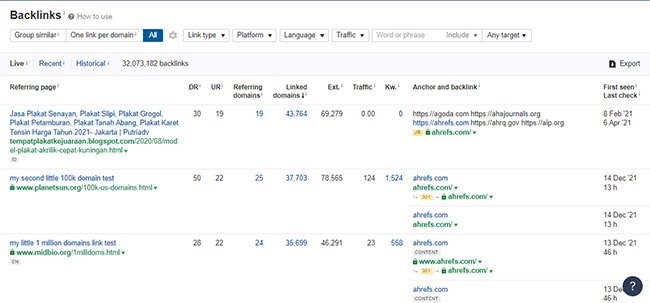 Anyone familiar with SEO can tell the role Backlinks play in increasing a website's visibility. Without them, increasing a website's Domain Authority (DA) would become next to impossible.
For total beginners in SEO, Backlinks mean that they are the links present on other websites. When someone clicks those links, they are led to your website. Basically, you have to create a web of links and have multiple websites to drive users to your website.
When you create backlinks, you must know that you must only target the websites with the same niche as your website.  If you get backlinks from websites that have a different niche, it will be considered spamming.
We just explained what Backlinks are. Now we'll tell you how Ahrefs can help with Backlinks.
Ahrefs allows you to check yours as well as other websites' backlinks. It allows you to identify whether they have high Domain Authority (DA) because of spamming or because of genuine links.
Identify Broken Links
Broken links are the links that don't lead to your website they earlier did. It mainly happens because that website removed the page to which your website links.
You can't identify broken links by manually looking at each page on your website. It's tiring, and there's a chance you may miss them.
Because of that, it becomes vital to have some tool that can do the work for you.
Site Audit
Site Audit is easily the most important aspect of SEO because it helps you identify issues in your website. How can one fix issues when they don't know they even exist?
Ahrefs Site Audit feature crawls all the pages on your website and checks everything from links to keywords and everything in between. With this feature, you can see the most vital points in charts.
If you think crawling will consume a lot of time, you're wrong. Ahrefs' crawling speed is fast and gives precise information. If you're still not convinced, you can exclude the pages that you don't want to get crawled.
Isn't the Audit feature by Ahrefs a complete package in itself?
Site Explorer

Site Explorer, as the name suggests, lets you explore websites and check their different aspects. The various aspects you can check are Organic traffic, Backlinks, Paid traffic.
Let us explain these three aspects.
Organic Traffic: Organic traffic is the traffic that visits your website without you having to spend any money on Ads. It is when users search for a query and click your website's link. It is the most genuine traffic, and every website aims to get Organic traffic. With Ahrefs, you can see which keywords bring traffic and which keywords don't.
Backlinks: Backlinks are the links that lead users to your website. They're vital for increasing a website's Domain Authority (DA). With Ahrefs, you can check if a website has genuine or spammy backlinks.
Paid Traffic: The traffic that visits a website through Paid advertising is called Paid traffic. For new businesses, it becomes essential to do Paid advertising because it gives them a boost in today's tough competition. With Ahrefs, you can check which competitors' pages use Paid advertising.
Rank Tracker

Rank Tracker is an excellent feature in Ahrefs. It lets you see where your website ranks when users submit a search query.
When you have a website, you constantly check if it climbed a position or not. But with Rank Tracker, you won't have to do it manually. This feature will do the work for you. Along with showing where your website ranks, it will give you a host of other features.
A useful feature of Rank Tracker is that you can put in keywords that you want to rank for. Then, you can set whether you want to get a daily or weekly report about the results. Moreover, you can see the results for any location in the world.
Analytics from Around the World
We constantly praise Ahrefs because it allows you to see analytics from any part of the world.
Let's explain this with an example.
You're based in Los Angeles, and you want to see your website's traffic in New York. Without any tools, you won't get a clear picture. But with Ahrefs, you'll have data that will help you make decisions and target a specific area where you think your product/service can become a hit.
This feature is helpful because your business doesn't necessarily have to be a hit locally (if it is, it's a plus). We say that because many businesses find great opportunities once they decide to take their business to a global level. But many don't do that because of the fear of failing or going into unknown territory.
Check Clicks on Keywords
We know it's great when you get lots of website impressions. But truth be told, those impressions are of no use if users don't click on your website.
And how can users click on a website?
When you search for keywords that get clicked. Yes, that's a feature in Ahrefs. You can not only check the keyword search volume (as we highlighted in the beginning), but you can also check which keywords get clicked the most.
Your end goal is to earn money. And money can only be earned when users click on your website because then the probability of getting converted into customers (conversion rate) is the highest.
But what's the takeaway from this point?
The takeaway is that you have to search for keywords that get clicked the most. Based on that, you have to write content, and there's a high probability that your website would start getting traffic.
Check SERP History
Search Engine Results Page (SERP) is the page you get after you search a query. You see links that appear at the top with 'Ad' written over them and other organic results on that page. Knowing which websites have been on the first page is vital, as it will help you make decisions and have the potential of being on the front page.
When you know the history of which page has been on the first page for how long, you'll be able to analyze everything about them. And when you do that and note the key points that helped them land on the first page, you'd be able to use those points and have a better chance of being on the first page
Search for Websites to Pitch To
There's a Content Explorer feature in Ahrefs, which lets you search for keywords and see websites related to those keywords. It is an excellent feature that lets you find websites where you can pitch to.
We talked about the use and benefit of Backlinks. And if you want to reap the benefits that come with building Backlinks, you have to have websites you can pitch to for getting backlinks.
We also discussed the importance of building genuine links because if you build spammy links, you can get in trouble sooner or later, and the consequences could be serious.
With Ahrefs Content Explorer feature, you'd be able to pitch to genuine websites and get high-quality backlinks.
Conclusion
These are the 11 amazing benefits of using the Ahrefs suite. As we said initially, Ahrefs is the most sought after suite by Digital marketers because they know the benefits of all the features present.
If you're a business owner and have recently decided to work on making your website become visible and drive more sales, then investing in Ahrefs is your best bet.
Although you can find many similar tools in the market, Ahrefs tops them all and is a go-to for most Digital Marketing experts.